by joanro on 21 August 2018 - 19:08
Here it is, again, the genetics that lead to propensity for hd....there are others, but these are obvious ones. Environment is critical for outcome of hips...
The genetic aspect for hd has to do with physical structure/ traits that are genetic: such as loose ligaments, heavey fat skin, lack of musculature, lack of muscle tone, big heavy heads, large bone, large loose feet, slack heavy lips, etc.
To get a good visual of the hd prone dog and ones that would be sound, compare the neopolitan mastiff ( breed has 100% hip dysplasia) with the racing grey hound ( 0% hip dysplasia).....the gsd selected for breeding should be on the scale closest to the grey hound in structure/ physical traits.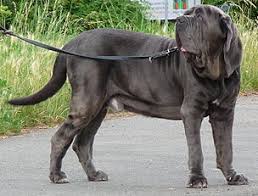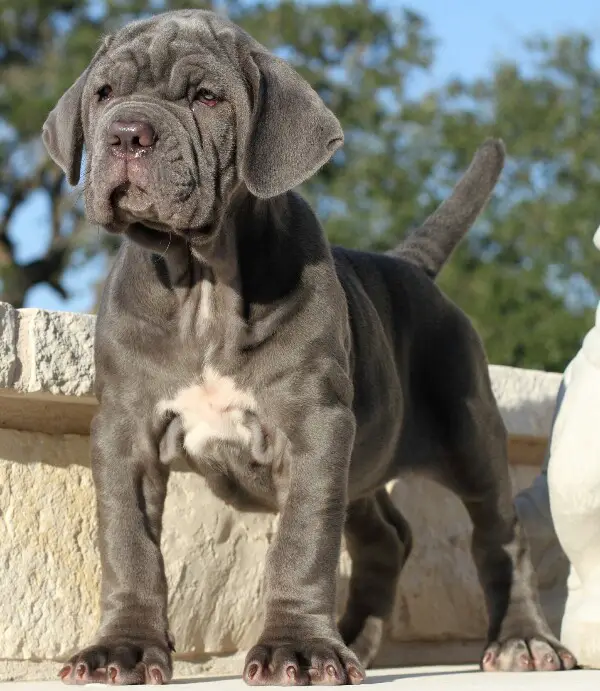 neopolitan mastiff puppy...loose ligaments, loose skin, heavy flews, sagging gut... same as adult above.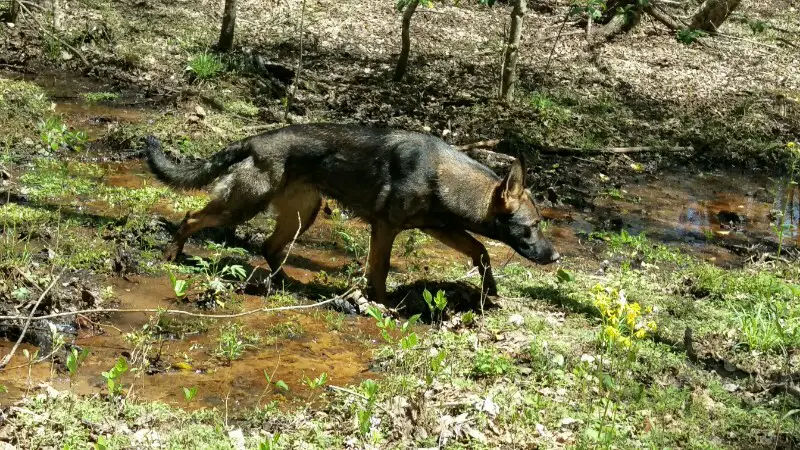 GSD female, tight skin, well muscled, tucked up belly chisled face shows tightness of skin...same for grey hound, below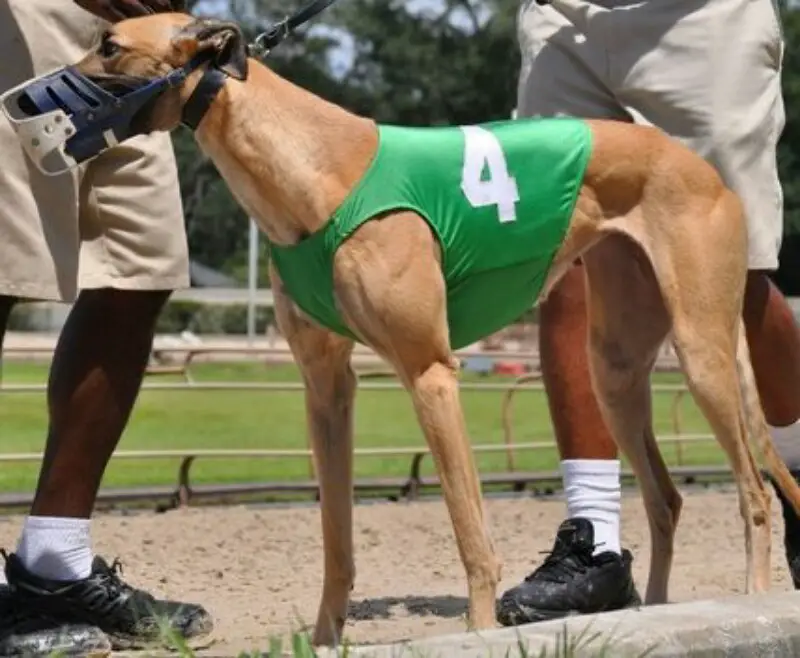 by susie on 21 August 2018 - 19:08
Joanro, there ARE known "markers", found and proven in 2007 by Prof. Ottmar Distl - a very expensive and detailed study mainly paid by SV, supported by VDH, GSDS only, no other breeds involved...
I tried to upload the (sorry, but German only ) pdf, but I guess I am too stupid...
Anybody able to help?
The main markers are located already (interestingly not that many, one dominant marker for sure, around 16 - 18 recessive ones ) ; no doubt about that, up to know they seem to be searching to find a payable and easy useable test.

I didn't hear any news for about 10 years - all of us do know it's not easy ..
but it's proven it's genetic.
by joanro on 21 August 2018 - 20:08
Susie: detailed study mainly paid by SV, supported by VDH, GSDS only, no other breeds involved...
I tried to upload the (sorry, but German only ) pdf, but I guess I am too stupid...

That right there gives me doubt as to the validity of study. After seeing what the sv has done to the black and red, they have a lot on the line to blame a gene, instead of structure. Jmo.
by GSDHeritage on 21 August 2018 - 20:08
Susie, I found this through searching do not know if this what you were referring to.
It appears that in Germany they have identified a genetic marker for the predisposition of degenerative joint disease.
Here is the press release (in German)
http://idw-online.de/pages/de/news253028

Genetic marker for joint disease in dogs discovered
Sonja of Brethorst, Press and Public Relations
Foundation School of Veterinary Medicine Hanover

31.03.2008

TiHo researchers, research prior to meeting The Institute for animal breeding and genetics research of the Foundation School of Veterinary Medicine Hanover, under the direction of Prof. Dr. Ottmar Distl, it is together with the Association of German Shepherd dogs (SV), the Society for the Promotion kynologischer Research (GKF) and the Association for German Hundewesen (VDH) succeeded genetic markers to develop, with the German shepherd dogs in the assessment for Hüftgelenkdysplasie (HD)
can be established. The Hüftgelenkdysplasie in dogs is the most important disease of the movement's institutions. It comes in all races, is at large and fast-growing but often breeds more pronounced. The hereditary disease results from an aberration of the hip joint and leads patients to severe pain during the movement.

On Wednesday, 2 April 2008, from 9:45 am, the scientists presented their current research findings in the auditorium of the Institute of Pathology, Bünteweg 17 to a broad audience breeders and veterinarians.

At the meeting, we invite you warmly.

The elucidation of the molecular genetic disease at the same time serves as a model to show how it is possible diseases caused by the interaction of many genes and complex metabolic processes, with molecular genetic techniques to combat. Through the application of the new test procedure, it will be possible to selectively breed and thus inherited Hüftgelenkdysplasie back at the dog. In continuation to the researchers new insights into the origins of the disease and thus win approaches for the development of new therapeutic approaches and develop preventive measures.

With no other animal we have such an extensive knowledge of physical features, behavioral characteristics and inherited diseases such as Small dog. About a hundred molecular genetic diseases have been explored. But it is only about individual genes, complex disorders were at the dog has not yet been elucidated with molecular methods. Even when people are genetically complex diseases, such as joints, cardiovascular diseases and cancer, difficult to process, the dog can be used as a model for diseases in humans. That speaks well that dogs is a very similar environment with the people and therefore share similar environmental conditions and living conditions are like humans.

The President of the Foundation of Veterinary Medicine Hannover Dr. Gerhard Greif, together with the President of the Association of German Shepherd dogs Wolfgang Henke, Christofer Habig, president of the Association of the German dog care, open the event.

For further information, please contact:
Prof. Dr. Ottmar Distl
Institute for animal breeding and genetics research
Tel (05 11) 9 53 88 75
E-mail: ottmar.distl@tiho-hannover.de

URL of this press release: http://idw-online.de/pages/de/news253028

Characteristics of this press release:
Biology and Biotechnology, Medicine and Health Sciences
Transregional

__________________________________________________ ___________________________
Received: 11 May 2007 Accepted: 25 September 2007 Published online: 20 November 2007
Abstract Canine hip dysplasia (CHD) is a common hereditary developmental disease of the coxofemoral joints. CHD is characterized by subluxation of the femoral head and deformation of the acetabulum leading to a painful osteoarthrosis.
Analyses of mode of inheritance have shown the involvement of a major gene in expression of CHD in German Shepherd dogs. Thus, a whole genome scan for quantitative trait loci (QTL) was performed in German Shepherd dogs.
For this purpose 11 paternal half-sib families, including a total of 459 purebred German Shepherd dogs with sires, dams, and offspring, were genotyped for 261 microsatellites.
These markers were equidistantly distributed over all 38 autosomes and the X chromosome with an average marker distance of 11.7 cM. The mean observed heterozygosity of the marker set was 50%. The CHD status for the dogs was scored according to the official rules of the Fédération Cynologique Internationale.
At the genome-wide level of significance at p < 0.05, QTL for CHD were located on nine different canine chromosomes: 1, 3, 4, 8, 9, 16, 19, 26, and 33. The minimal QTL regions containing the CHD genes spanned on average 5 Mb with a range between 1 and 8.2 Mb. Chromosome-wide level of significance at p < 0.05 was found for QTL on 19 chromosomes.
Further analyses can now be performed to refine these map positions of QTL already identified in German Shepherd dogs.
Electronic supplementary material The online version of this article (doi: 10.1007/s00335-007-9071-z) contains supplementary material, which is available to authorized users.

by susie on 21 August 2018 - 20:08
Validity?
You need to distinguish between the organisation SV and people involved in SV.
There have been big studies before, based on x-ray studies- the same outcome.
Like it or not, SV does own the biggest DNA based breed registry, the club regularly pays a fortune for health studies, the scientists involved are top notch genetics, they don't need to follow any SV ideologies ( honestly, why should SV pay for "genetics" - "environmental" would sound way better...).
EVERYBODY ever deeply involved into the HD problem came to the same conclusion: HD is genetic, and environment will influence the final result more or less.

Send me a PM with your e-mail address and I will send you the pdf, no problem.

by susie on 21 August 2018 - 21:08
Thank you so much, Heritage.
It's still not the origin scientific pdf, but it's a good summary.
How to upload a pdf ???
Even if it's German written only? 😎
by GSDHeritage on 21 August 2018 - 22:08
Susie I found this seeing if it works it is a pdf file. Copy and paste the link it should work.
Identification of Quantitative Trait Loci (QTL)
for canine hip dysplasia in German shepherd dogs
INAUGURAL-DISSERTATION
zur Erlangung des Grades einer
DOKTORIN DER VETERINÄRMEDIZIN
(Dr. med. vet.)
durch die Tierärztliche Hochschule Hannover
Vorgelegt von
Yvonne Marschall
aus Kiel
Hannover
https://d-nb.info/989629325/34
by joanro on 21 August 2018 - 22:08
Susie, if it comes down to a genetic marker, then sv should be able to eliminate hd. Too bad they don't include any other breed, since the hd does affect other breeds. I don't have much faith in sv even if they have a big DNA data base.
by joanro on 22 August 2018 - 00:08
What about genetic tests for hip dysplasia? There are several published studies that claim to have identified genetic markers associated with the development of hip dysplasia, and some of these have been developed into commercially available tests. However, they are breed specific, and at least one has just been shown to be of very poor predictive value (Manz et al 2017).

Unfortunately, the situation for breeders wishing to reduce the incidence of hip dysplasia remains problematic. The best options remain consideration of the phenotype of related dogs (as in Estimated Breeding Values), and a genomic rather than marker-specific approach to identify genetic risk using thousands of markers (Guo et al 2011).
The genetic architecture of complex diseases like CHD differs fundamentally from that of monogenic disorders. Whereas the latter, by definition, are due to a few genetic changes with high penetrance, the former result from the interplay of a large and unknown number of environmental and genetic factors, most of which have small effects...Instead of basing CHD prediction upon a small number of pre-selected markers, Guo et al. ...proposed the inclusion of all available genomic information in a prognostic model, an approach that recalls strategies in livestock and crop breeding programs for quantitative traits alluded to above. In their `agnostic' approach, all SNPs on a given chip that turn out disease associated in a `learning population' are eventually included in the CHD risk calculated from the genetic profiles of other animals. (Manz et al 2017).
by duke1965 on 22 August 2018 - 05:08
personally,I think we have to look past official result to begin with, if a dog has a B or C on paper, why is that,there are multiple reasons for a lower rating,which all are different in origine.
I personally see a good amount of dogs failing elbows Xrays these days who actually have "broken "elbows, all of them being heavy build extreme high drive dogs, IMO, genetic influence zero, other than bodysize and drive LOL
everybody with half a brain understands that hips and elbows are also influenced by many other reasons than genetics only
There was a study done where batches of puppies were raised , half of them where fed few times a day on balanced amount, other half was provided food available all day, eat all you want.
results showed a lot more hips and elbow problems in the "eat all you want "group
also we see a lot of difference between pups/young dogs raised on meat versus puppyfood
furthermore large part is due to injuries, accidents etc
Then when we come to things like shallow sockets, I think this is a genetic issue, as it is the way the bone is shaped to begin with
so like I said, I think we have to look past the official paper outcome,especially as breeders.
You must be logged in to reply to posts
---
---
---
---
Contact information
Disclaimer
Privacy Statement
Copyright Information
Terms of Service
Cookie policy
↑ Back to top