by AnaSilva on 26 February 2018 - 18:02
Hi there, most likely it's been a couple of years since my last post, but the lost of our beloved GSD Becky was a really though blow.
I haven't even introduce my "new baby" Arya because we just lost her sister, Brave, really short story: we lost Brave at only six months old due to a weird accident, she ate something, some sort of fabric, caused an intestinal block and she passed way in only 2 days after surgery.
So this post is to thank you all that was such a great support with Becky and introduce Arya as well as clearing out some doubts I have about the breed.
1º of all... Meet Arya, she is an amazing puppy! Is turning 1 y o next month and is a complete crazy and outstanding dog. She can be a hand full of trouble, and as we just lost her sister we get a bit stressed out with her crazy behavior most times... She is a fun loving family dog, does not hunt, but we do play a bit with mantrailing every week, but trully just for fun.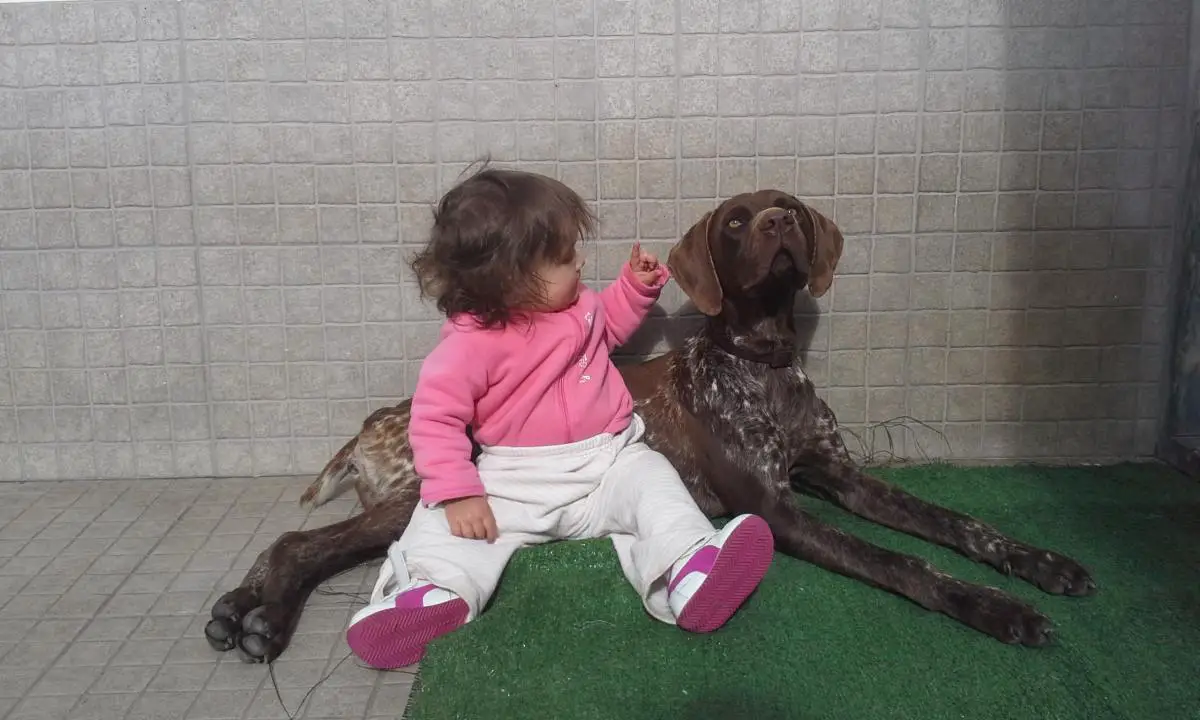 Well my main doughts right now are about the classic talk about "lines", maybe I still crazy about all that rubbish (in Portugal is a complete nonsense about this) about "lines" in GSD.
We had a GSP some years ago, but she was a rescue and she was probably mixed/crossed with a Portuguese Pointer, and unfortunately the breed does not have a lot of "fans" outside hunting in this part of the world.
Is ther really a work line and a beauty line in GSP ? Don't really can find a lot of information in Portugal, and defenetly not any dogs to compare...
What are the main diferences between them? (can you please post pictures?)
Thanks again for all the support I found here about Becky, and hopefully I can also lear a lot about GDP with you all


by Hundmutter on 26 February 2018 - 21:02
I do not think the differences between 'working' and 'show' bloodlines / kennels in other breeds are anything like as marked as the (mainly American) fascination with 'the great devide' in GSDs, Ana.
It undoubtedly exists, to some degree or another, in any breed (Pointers, Spaniels, Hounds and so on) that was originally created for a working purpose - that definition including: hunting, trailing, treeing, picking up after guns, retrieving larger game, or birds from water - and even most of the Terriers, and the herding/tending breeds (Border Collies for example); wherever people have taken an interest in, and Showed for, conformation, there are always some accusations that the 'pretty' dogs lose working ability, as it gets bred out of them to ensure they are calm and sweet-tempered to Judges in the Showring.
Its just more marked in those breeds which are frequently used for Personal Protection or to do sports that include bitework. Not just GSD, but Belgian Malinois, Boxers, etc (and, historically, though perhaps less these days, Dobermanns, Rottweilers; and going back further, Gt.Danes & Mastiffs). JMO but I think its partly the sheer popularity / numbers of GSD that have contributed to this rift being more noticeable, and other countries more aware of it happening; plus the very distinct wishes of the GSD's founder Max von Stephanitz that it should be an all-round , able to do anything, breed, and should always be kept a 'working' breed - can't think of any historical figure so famous for, and succinct about, purpose, in the background of the development of any other dog breed.

by AnaSilva on 01 March 2018 - 10:03

So in your seeing these gundogs and similar don't really have that much of a estetic diferences between then?
Just because, to me Arya is perfect and it really doesn't mater as we will even be spaying her, since due to a series of contingencies she was never even register in the LOP (she came from an unexpected litter, the father was old and the owners did not think they could still breed babies so kept then in the same kennel all the time, and before the kennel club went to confirm the litter to finish register, the father passed away, I have there vet statements confirming this all but she was never actually register) but I really don't have a lot of other dogs to look at then side by side, just pictures... So was wondering, and tryed o learn, how is her morphologically speaking.
As I had read that there are some diferences in work line and show lines, though I beleive that at least in this part of the world there is no such thing as show lines in GSP since they are only consider hunting tools, unfortunately I have heard owners of these dogs say they "liked to have a dog" and when we asked them "what about your pointer?" they respond that it does not count ... But the breed club in Portugal does have a standard for work and one for show dogs...

by Hundmutter on 01 March 2018 - 12:03
Well I don't know from personal experience, since my contact with any of the HPR breeds has been limited (albeit maybe a little more than your average dog owner). I just know that some people always take this line, whether in conversation, in articles in the dog press, and so on; whether they are justified or not is for those IN the breeds to judge !

Likewise I cannot judge for your part of the world, but here in the UK there is very much a 'Show' interest in GSP [as there also is in GWP, as well as (English) Pointers] but also there are people who 'work' their Pointers around bird hunters etc - there appears to me to be much overlap between the dogs, most kennels and bloodlines producing BOTH conformation dogs and working dogs.

I'm interested that you say there are two Portugese (Kennel Club ?) Standards, one for Working GSPs and one for Showdogs. This 'official' show/work split is extremely rare when it comes to Breed Standards, to the best of my knowledge. Might have something to do with the popularity of bird shooting in your country, and sheer numbers of Pointers owned.

Those who are intimately concerned with these breeds may well be able to see shades of physical difference between them, maybe size, or less or lower quality coats, or something; but if one doesn't know the breed that well I doubt it "sticks out a mile" which is a 'working dog' and which is a Show dog (and indeed many specimens may be both !). Here, anyway !

Probably there is a certain amount of difference in temperament, 'drives', activity levels, trainability, between dogs that work and dogs that don't, but I bet it gets over-emphasised by those with an interest in the outcome (just as it does with GSD, IMO).

You might like to take a look at the situation in neighbouring mainland Europe nations ?

by AnaSilva on 06 March 2018 - 15:03
http://www.cpdk.pt/o-braco-alemao
The link above is for the Portuguese German Short-hair Club, and right on there main page they have 3 links to different files, the "official" one, says "Estalão de Beleza (inglês)", show standard in english, and two in Portuguese, one says "Estalão de Trabalho" meaning work standart, and the other says "Estalão de Beleza (português)" meaning show standard in Portuguese.
So yep, I guess they do officially slip then, can't really understand why. The main difference is that in the work related one speaks mainly about "o galope, o porte da cabeça e o deslizar" meaning the gallop, the bearing of the head and the glide, and the other is the ofitial one by the Portuguese kennel club (CPC) wich is the official translation to the FCI standart.

by Hundmutter on 06 March 2018 - 16:03
Interesting !
Maybe one day we'll see the SV pestering the VDH and FCI to come up with separate Standards for Show and Work GSDs ? (Not !)

by AnaSilva on 16 April 2018 - 17:04
These are some scary thoughts... =(

by susie on 16 April 2018 - 17:04
Ana, what happened to Becky ???
And what happened to your club?
Didn't hear from you for a long time...
by joanro on 16 April 2018 - 18:04
Ana, there is a big huge difference in gun dogs between show and actual hunting dogs...they are selected for very different traits for breeding, so a difference is inevitable.
Your dog looks beautiful!
You must be logged in to reply to posts
---
---
---
---
Contact information
Disclaimer
Privacy Statement
Copyright Information
Terms of Service
Cookie policy
↑ Back to top