Working Pit Bulls
by
crimsonribbon
on 26 December 2007 - 04:40
I'm just curious to find out if the pit bull owners on this board work their dogs and if so what kind of work they do with them. I have known many great pits but all were pets.
by
Angela Kovacs
on 26 December 2007 - 23:58
I currently own 3 APBT, I do Schutzhund with all and one will be doing show as well.
by
crimsonribbon
on 27 December 2007 - 20:10
That's great! Congratulations for taking the time and putting the effort in to training your dogs to such a degree. Do you have pictures of your three on the database? One thing I wonder about is whether people give you a hard time when they find out you want to train your dog to do bitework. I know when I contacted my local schutzhund club they told me the only breed they will not allow to train with them is a pit bull. Seems to me they would be great at it as long as they have a good temperament and they have the obedience down first.
by
Angela Kovacs
on 27 December 2007 - 22:29
I don't have any pictures on the Database.
As for training, I have a great trainer that does not discriminate breeds. I do admit that there is a difference between an APBT and a GSD, but my trainer has been there for me 100% to help me through problems that arise. Where are you located at?
by
tammy
on 29 December 2007 - 00:10
we have 4 and 2 are servise dogs the other 2 are in training
by
crimsonribbon
on 29 December 2007 - 00:44
I looked at the pictures on your site; your dogs are beautiful. Especially Tank, he's georgeous. I live in Portland, Oregon. I have two GSDs,went to check out the Sch club with one of them and asked them about breed participation. A friend of mine has two pits and both are great dogs; I thought maybe we could go out to train together. That's when I found out they won't allow pit bulls to participate-- at least not in the protection phase. I always a thought a pit bull would be one of the better working breeds-- strong, smart, determined... but it seems they are being disincluded from many things anymore. It's good to see there are people out there including them.
by
Angela Kovacs
on 29 December 2007 - 08:07
Thank you. : )
It is so sad. You would think that someone so involved with dogs ( the people @ that club ) would see past the media hype. The people in my club love my dogs.
As for not letting them do the protection, every DOG is different. A good trainer would know that and be able to tell, by training, that a dog is not cut out for a SPORT. Besides, the biggest part of the protection is control over your animal which translates into OBEDIENCE. It is probably best you say away from them, too much drama.
As for being a better working breed, it depends on how you look at it. My Pits are less likely to shy away if they are injured during practice ( which can happen when training several days a week), but my Shepherd learns things 1/4 the time of my Pits. There are +/_ to both breeds.
Good luck to your friend.
by
BabyEagle4U
on 31 December 2007 - 05:42
My Nemos herds cattle/horses as a lifetime job living on a farm. He's the sidekick to a Malinois and a Cattle Dog. :o)
I do Tractor Pull with him at Rodeo 1/2 time shows for MSNRA just for fun. He's the only Reg. APBT there most the time, most dogs arn't Reg at all who compete and of course it's just for fun. If he wins 2 more times in a row we get centerfold for the national publication of unbeatable 1/2 time Rodeo JDGreen Pro with 8 consecutive wins with 100 or more points. LOL Quite silly but I think he'll do it. He looks mighty fine pulling a John Deere Green. :o)~
I do want to show him sometime in the future just to see how he places. We love him.
by
showmerealpitskennels
on 10 April 2008 - 23:34
GOOD LORD, WERE ARE YOU GETTING YOUR INFORMATION FROM ON APBTS. ANY PIT BULL PUT INTO A SERVICE AS A GUARD DO IS STUPID AND IGNORANT. GOES AGAINST WHAT THEY WERE BRED TO DO AND THAT IS TO BE HUMAN FRIENDLY. WE ARE NOT TALKING GSD WHICH HAVE THE INSTINCT TO BITE AND PROTECT THEIR PROPERTY. STOP BEING SO COOL AND SO CALLED PRO ACTIVE IN THE DOGS IF ARE TRULY PUTTING A POSITIVE IMAGE IN THE DOGS DO SOMETHING ELSE. WHAT POSITIVE IMAGE CAN SCH. WORK PROVIDE FOR A PIT BULL THE SAME THING PEOPLE ALREADY THINK. YOU WANT A TERRIER WHO CAN BITE GET AIREDALE OR A GIANT TERRIER BREED THERE IS NUMEROUS ONES. PROMOTING THE DOGS IN A POSITIVE IMAGE IS GREAT BUT TRAINING A DOG AGAINST THE GRAIN OF THE WOOD IS NOT A ONLY A INJUSTICE TO THE DOG BUT TO YOURSELF. YES PITBULLS (AS YOU CALL THEM) ARE WORKING DOGS, WORKING DOGS IN A DIFFERENT SITUATION NOT JUST FIGHTING. WE HAVE WEIGHT PULLS, AGILITIES, TRACKING (ANY DOG), OBEDIENCE, FRISBEE COMPS, TREADMILL RACES, REAL WORKING DOGS DO THESE JOBS, CATCH DOGS (HOGS AND BIG GAME), RESCUE WORK, OR JUST HAVE A NICE PET.
by
showmerealpitskennels
on 10 April 2008 - 23:43
SORRY I DIDN'T FINISH. THAT IS WHY THE CLUBS DON'T LET PEOPLE BRING THEIR APBT TO TRAIN IN PROTECTION WORK, BECAUSE THE DOGS ARE NOT GENETICALLY PROGRAMMED TO DO IT AND THE OUTCOME OF THIS COULD BE THE NEXT MEDIA FREINZE. BAD IDEA ALL THE WAY AROUND, JOIN YOUR LOCAL CLUB AND MEET SOME PEOPLE WHO ACTUALLY KNOW THESE DOGS AND NOT SOME WHO PREACHES THAT THE DOGS CAN DO ANYTHING, I CAN JUMP OFF A BRIDGE BUT DO I . NO, JUST BECAUSE A 1967 CAMARO CAN DRIVE ACCROSS THE COUNTRY, SHOULD YOU NO! JUST BECAUSE A BULLDOG (APBT) CAN BITE HARD DOES THAT MEAN WE SHOULD TRAIN IT IN SCHUTZHUND. THE EXACT REASON I DON'T BREED DOGS AND EVERYTHING I HAVE STAYS AROUND MYSELF AND CLOSE FRIENDS. BECAUSE OF THESE PRO ACTIVE OWNERS WHO THINK THEY ARE DOING RIGHT BY THE DOGS, I DON'T WANT TO CHAIN HIM, I DON'T WANT TO KENNEL HIM WHILE I AM AT WORK, OR LET'S GO TO THE DOG PARK BECAUSE HE IS FRIENDLY MOST OF THE TIME. GOD HELP US ALL PLEASE.
by
Angela Kovacs
on 19 April 2008 - 21:41
I am sorry, maybe you need to go do some reading about Schutzhund... My dogs are NOT protection trained dogs. They are participating in a SPORT. Do your research before you go spouting off about things you have no knowledge of.
by
LittleCountry
on 25 August 2008 - 01:17
I weight pull train my dogs the drive out of the dogs are awsome and the work hard
by
deathrow dogpack
on 05 December 2009 - 03:10
angela, you really kept your composure on that response. very nice job. it seems the world is not ready for bite work sports. you never see them on animal planet and maybe never will. my psa titles are something i am very proud of and required a ton of teamwork and practice. i know of countless sport dogs, many of them apbt that are still great family pets. although my apbt is not titled, he participates fust for fun and took to it like a fish to water and is a great channelling of energy. has not made him mean or nervy, quite the opposite. those that are still doubters, go check out a sport training, or a trial, and speak with some of those showing, listen to the judges critiques, enjoy the true teamwork of dog and handler.
by
yankee girl
on 08 April 2010 - 00:26
i train in psa with 3 gsd, all different ages, and 1 apbt. my apbt excells at it but its just a big game for him. when he walks onto the field and see's everyone, he smiles and wont stop wiggling. to him the decoys are just big play toys. when were done working him he will climb all over the decoys and just loves them. is he stable, oh yes. loves everyone no matter were we go.

my adult shepherd is a different story. she walks on the field and means business. not a game at all.

both go to a nursing home 2x a week to visit family and they are gentle and love everyone.

if your apbt is stable, as with any breed, it will not change their temp or personality.
by
APBTSchH
on 15 June 2010 - 18:33
My pitbull is CGC, TDI and will be getting her BH in the next few months and by the end of the year have a Sch1 if all goes to plan.

She is a rescue. I am actually interested in finding out what lines she is from because she has such a solid and sound temperment with fantastic drives and a beautiful expression and body that I would like to find out who is breeding these pits

This is the kind of pitbull who goes out onto the Sch field in complete prey drive, can take a ton of pressure, get a little defensive if she needs to be, and as soon as she is all done, she can come into a croud of people and even children and lay down nicely for pets with the sleeve sitting right out in front of her. The kids can even sit on the sleeve.
fantastic dog.

Its a complete joy to work this dog and call her my own. And this is just fun for us to give us something to do as she is spayed.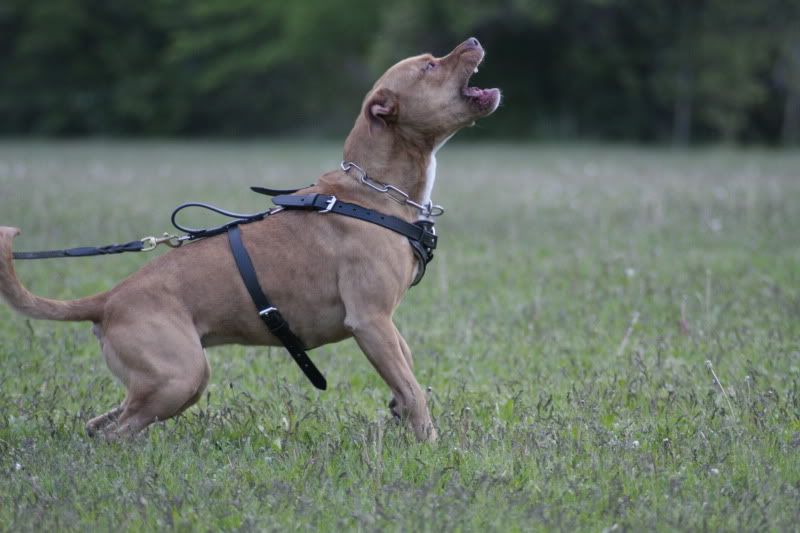 You must be logged in to reply to posts