German Shepherd Dog > Are GSD known for chasing cat? (19 replies)
Are GSD known for chasing cat?
by
Mrs K
on 20 July 2012 - 18:52
I have a cat who was once on the heavy side but since I've had my 5 month old puppy my poor cat has went form heavy to nothing but bones. I was wondering if Shepherds are known for chasing or just not liking cats in general.
by
tedebear12
on 20 July 2012 - 19:16
YES! Every single GSD I've ever had chased/s cats. I have never had a cat harmed, and if the cats wouldn't run, there would be less chasing. : ) The important thing is to give your cat safe zones such as tall cat trees, a room the dog is not allowed to enter, etc. Additionally, really exercise your dog and give your dog plenty of things to do that don't involve the cat. GSDs and cats can live together very, very well, but it needs to be set up right for everyone to remain happy. It's most likely that your puppy is just trying to play with your cat, not really harm it.
by
EuroShepherd
on 20 July 2012 - 19:51

Yes, GSDs (as most any dog) will chase cats, particularly if the cat runs. Like tedebear says, give your cat it's own places where it can get away from your puppy. Teach your pup that it is not allowed to pester, chase, bother the cat in any way. Not allowed to take the cat's toys, not allowed to touch any of the cat's stuff. Basically make sure your pup knows that it's ranked below the cat.

This is what I did for my dogs back when I had cats. My cats were allowed to do anything and everything they wanted over the dogs. If the cats wanted to eat the dog's food they could, if they wanted to sleep on the dog's bed they could, if they wanted to swat the dog, they could. But my dogs were not allowed to bother the cats or the cats' stuff in any way. If the cats were drinking from the dogs water bowl or checking out the dogs' food then the dogs were made to patiently wait until the cats moved on. My dogs were very quick to differentiate cats from other animals. Because they learned that cats were gods in our house, they completely ignored strange cats outside our home too. My GSDs go wild over squirrels, rabbits, groundhogs, etc (and they've killed all those creatures too) but they completely ignore cats. My oldest male grew up with kittens, he adores kittens above all else.
by
Runag
on 20 July 2012 - 20:47
Depends on the dog and the cat. I have two cats and when I introduced a new puppy they sniffed noses and one cat then walked away and ignored the pup while the other stuck him in the nose and ear. 14 months later and the dog loves the cat who walked away but has never forgotten the one who jabbed him. He chases him at every opportunity!
by
HighDesertGSD
on 20 July 2012 - 21:14
I often wonder what one of my GSDs will actually do to a cat if she caught one. I think chasing after is not the same as killing.
by
Mrs K
on 20 July 2012 - 21:24
I've been trying to figure out how to make my pup leave the cat alone without spanking him because I don't believe in spanking since that make them either more aggressive or scary. Conan will walk over to Graycee and jump up just to see her run. When I tell him no don't mess with Graycee then when I leave the room he goes after her big time. Hey EuroShepherd you have any suggestions on how I should go about training him not to mess with Grayee.
by
vonissk
on 20 July 2012 - 21:32
I had a 17.5 yr old cat I rescued as a handful of fur. All those years he lived with the dogs and other than a little nose swat here and there at a new puppy or young dog they all got along great. Fast forward to a couple of years ago--new people bought the house next door, they had a siamese X cat and a blk/wht one. These cats spent a lot of time on their roof and as they got bolder, on my wood fence. Anyway my dogs would see them and bark and bark. I had warned them even tho my dogs live with a cat I am afraid if one of your cats fall in here that they not only would chase it but also kill it. One morning I got up and saw something white out in the yard. First thought someone had drug something out of the garage. Went out and it was their siamese x cat. I picked it up examined it and not a mark on it. I called them, we buried and had a little service for the kitty so we really don't know what the cat died from. I was very surprised the cat had no marks on it so I am wondering if maybe my dogs knew something was wrong with it and that's why they didn't fool with it. I lost my Ollie cat 2 yrs ago next month and my last new edition has never been around cats but with all the drive she has I bet she would chase and possibly hurt one. Hopefully we will never have to find that out....................
by
kpokodul
on 20 July 2012 - 22:15
About 20 years ago I had a Female, she just got a puppies. my friends gave me an almost 2 month old kitten. I ve brought carefully face to face this kitten to my Female while she was feeding puppies, right when I brought this Kitten home.
Female was ok with this kitten, she actually licked him (kitten). so I've place the kitten just beside puppies, and I was surprized, Female Dog actualy was licking a kitten and was trying to bring him to herself.
in a day or two this kitten was treated as her own puppy, puppies while growing was treating a kitten as a member of same pack. Good Experience.

Today I have 2 GSD, one is 2 years old, and a Female 6 month Old.
One of the guy from my work his Cat had kittens, 3 left, so he wanted to take them to the shelter. me and my wife wanted to adopt one only, but we decided to take 2 of them, so could save at least 2. well nice kittens!
My dogs in the the house most of the time, they dont bark at kittens, but they jump on the safeguard door when they see kittens are running around, LOL looks nice but annoying sometime. anyways it is been a month since kittens are with us, so any time soon I am going slowly introduce them a little closer, I hope it will work.

anyways, I guess female Dog when she had puppies and see a Kitten maybe she feelt a kitten is young... I dont know.. maybe Dog personality.
by
asomich
on 20 July 2012 - 22:34
I had a rescue GSD that killed a cat before I adopted him. He killed several rabbits in the backyard. The rabbits learned to run on the other side of the fence! So I don't take a chance with my mals now and am very viligent when walking them in my cat infested neighborhood. One of my mals killed a rabbit while walking in a horse pasture once.
by
alboe2009
on 20 July 2012 - 23:02
For me....... My dogs are not allowed to terrorize other animals, (now if they go out the back door smell or spot a rabbit or criiter, sometimes you can't help when the prey drive kicks in) If I have the two animals they must live together nicely. My pair of Chows I had cats, I'm at work but tomorrow I'll try and find the picture. My Chows would be laying down and the kitten would "jump" them and attach to their face like the "alien" looking for a host and you know kitten claws, but just attach and bite. The male, Ky-Lin, would just lay there like "Oh brother, not again" with this kitten attached to his face going to town. When I first moved to MD and the Chows were at my familiy's house until I found a place that allowed dogs a neighbor's kitten climbed over the fence and came into our yard. It was not a pretty sight.

Now, my male, Reiker, was around cats and kittens and the kittens would crawl up in his fore paws and sleep "protected".
I honestly couldn't say one way or the other how the two girls would be but I would think in time they would be okay with/around cats or kittens.


by
Chaz Reinhold
on 21 July 2012 - 00:08
90% will chase, 10% will kill. (9 lives).
by
trixx
on 21 July 2012 - 00:34
a dog/puppy will chase a cat when running cause of its prey drive, my dogs wont have any problems with a cat if it just sitting or walking , running is what trigger the prey to chase. i do not have cats now but did at one time and even had strays , they never bother the cats. a cat that fights back usually does not have a problem with dogs as the dogs know the cat is boss, but not all cats are dominate. i think like other have said , give your kitty a safe zone. also need to control the puppy and not aloud him to act this way to the cat if you want piece in the family. it can be done. i bet in time they could be best of friends.
by
Siantha
on 21 July 2012 - 01:07
my dogs will chase the cats around as a joke it seems and my cat will roll over and they sit there and paw eachother but they are buddies. i still however have baby gates set up sectioning my house off so we can 1 seperate dogs and 2 so the cats can get over them and the dogs cannot. i have had some dogs who i know would kill cats. and i had one who killed 3 feral cats in my backyard. but loved her kittys at home. she knew those cats didnt need to be going through her yard and she handled it
by
beetree
on 21 July 2012 - 01:11
Listen to the cat, they will tell you most times, except for those times it is too late. RIP

by
destiny4u
on 21 July 2012 - 01:20
yeah i find a spooky passive cat a bad mix cats like mine who will blister my dog up is good, but gsds seem to chase small dogs also not just cats.
by
shepherdpal
on 21 July 2012 - 01:54
Yes, they love to chase anything that runs! "Leave it" is a very necessary command!
by
Nans gsd
on 21 July 2012 - 02:22
YES< they will chase and kill the cats...
by
Chaz Reinhold
on 21 July 2012 - 02:34
Funny story. My friend, Mitch Cumstein, went into his backyard and saw grey fur sticking out both sides of his dog's mouth. He knew it wasn't a coon, squirrel, possom, etc. A couple days later, he was in the local convenience store and noticed a flyer for a missing cat. He looked closer and realized it was his new neighbor's address. When he went home, he told his wife, and she said, " I forgot to tell you. I met the new neighbors and they are nice, but she told me that they moved here with six cats, but are down to only the house cat."
by
swingfield
on 21 July 2012 - 02:37
Stay out of the kitty jar !!
by
UMMEI
on 21 July 2012 - 04:13
I have a 4 y.o. GSD and 2 cats. The dog was brought into the household at 7 wks & the cats were full grown. Our male cat has always been bold & outgoing & interested in the dog. The dog has equally been interested in the cat. While they play & chase each other, my husband & I have always maintained our status as leaders of the pack & have instilled in the dog not to rough-house with the cat. We also trained the dog with "stop", "no more", "leave it", etc. She & the cat get along fine - they sleep on the sofa together, they play together, they sit in front of the sliding glass door together to look outside. If the male cat scratches on our sofa or office chairs he gets yelled at & then the dog runs over to him to make him move away. If the male cat beats up on the smaller female cat, the dog runs over & puts herself in between them. The female cat is a true scaredy cat & confines herself to my bedroom & has been that way since before I got married & before we got the dog. GSDs are smart. Owners have to train & socialize them & be clear/consistent with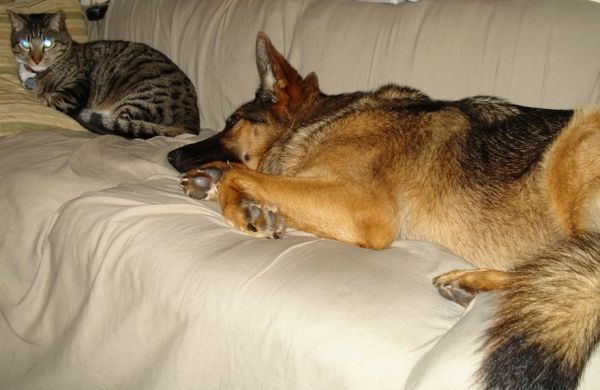 what you want from them.
You must be logged in to reply to posts