Mixed with...?
by
Jodynorth13
on 23 June 2012 - 23:57
Here is my beautiful adopted Bella. When I got her from the humane society I was informed that she is German Shepherd mixed with Alaskan Husky. To be honest, I guess I don't really see the husky even though she has interesting face markings. Any ideas on her breed origins?

Additional information, she is almost 2 years old (according to vet. estimate), she is about 65 pounds and has a short coat. And she never howls (as the Husky mix would suggest she might). I don't have a good picture of her stance but her back does not angle down towards her tail that much.

Any information is appreciated! Thanks!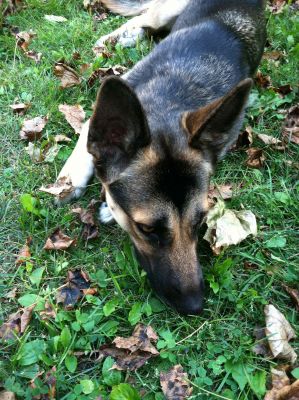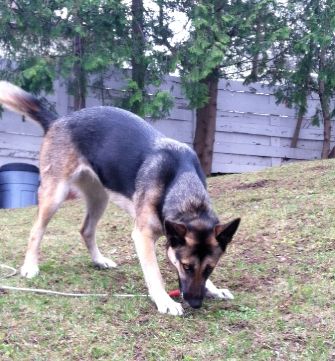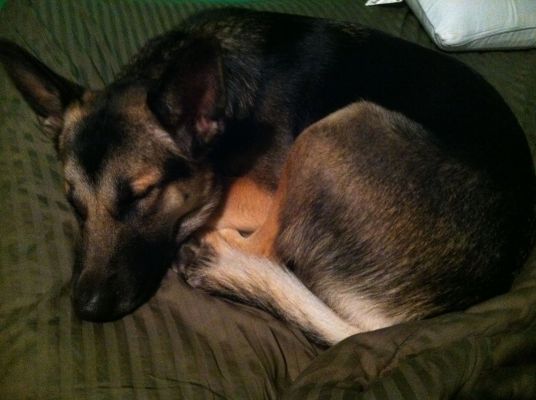 by
VIANDEN
on 24 June 2012 - 00:37
I don't see any mix in her. I sure would like to see better pictures of her face looking at you not looking down.
by
Abadonsdad
on 24 June 2012 - 01:38
i think they call them mixes cause they do not know,beautiful shepherd.
by
GSDguy08
on 24 June 2012 - 01:48
When are people going to get it right. Not saying "you" are wrong, but people always call them by the wrong name. It is Siberian Husky......An Alaskan Husky is a Siberian Husky mixed with another breed to add more speed/keep the endurance for races like the Iditarod and other sled racing. I get asked all the time if my Sibes are an Alaskan Husky....I just say no, they're Siberian.....and usually leave it at that. But anywho, to me your dog looks more Shepherd than anything. I don't see any Husky.
by
swingfield
on 24 June 2012 - 01:58
I see "pretty" !!
I agree with GSD guy.. I own a Malemute (also not an Alaskan Husky) and people get them confused with the term 'husky ' too...It is too hard to try and explain the difference in bone and what they were specifically bred for.. (but I love the Sibes blue eyes) !!
any generic mixed breed seems to get branded "ah its just mixed with a husky" LOL.. She is very feminine and has a sweet loving face!
by
dragonfry
on 24 June 2012 - 02:50
She looks like a pure bred shepherd to me. She's not from show lines but she may have some working or just good old average, not bred for any thing special german shepherd in her. Husky? not even an ounce. I've seen a bunch of husky shepherd mixes and they always have some interesting marks or curled tails. And they always seem to get some of that husky coat.
I think she's a very pretty girl. Looks a lot like my friend's Chech bred working line shepherd.
As for Humane Societys, Nice clueless people who can't tell a great dane from a pom!

by
JRANSOM
on 24 June 2012 - 03:23
All I see is GSD. Can never count on them to give accurate info. Rescues make it really hard for people to adopt dogs but try to "sugarcoat" the breed so people will adopt them! Just don't get it~!
Anyway, Looks like pure GSD to me. Some American line in there for sure, but don't know what else.
by
petoasis
on 24 June 2012 - 05:43
She is beautiful girl,She is GSD>

by
Jodynorth13
on 24 June 2012 - 07:00
Thanks everyone. I agree that humane society's don't always know all and I know that I am newer to the breed. I did not initially want something like a German shepherd but her personality changed my mind (my family had had bad experiences in the past and i did not want to bring up bad memories) but she is the most loving dog ever, a total lap dog. Here are a few more pictures, she always turns away from the camera when I take pictures, camera shy. :-) But I definitely know the difference between malamute and husky and the humane society told me "Alaskan husky", I had never heard that but since I wasn't questioning at the time, I just wanted to make her a part of our family, I went with it. Now I'm not sure at all so I posted what I was told with her breed. The thing that throws me off, if she is a pure breed is she has such a short coat, ever shepherd I've seen has had the longer coat. I am no expert at the breeds, which is why I am asking this but I have never seen a GSD with a short coat and no slant on the end of the spine. Thanks again everyone. I am not planning on showing her or anything, after the problems I had dealing with the humane society to adopt her I am just curious. Some additional information about the adoption, I adopted her about a year ago, she was 49 pounds (same height as now) when I got her, starved by her previous owner, shattered k9 teeth from playing with "rocks" with previous owner and terrified of water. Now a healthy 66-68 pound dog that is getting used to water and loves life. Once again, the face shots are hard because she always turns away, I have over 400 pictures of her, and these are the best ones. :-) I love her to death and would never replace her. Like I said previously though, her coat and stance just threw me off before. Below are some pictures - first one - she likes to mouth people when she's playing, never ever bites, just shows what she's got, second one - closest to a straight on shot I had, third one - her and her friend "bear" (a good side shot), and fourth one - one from the humane society prior to me adopting her.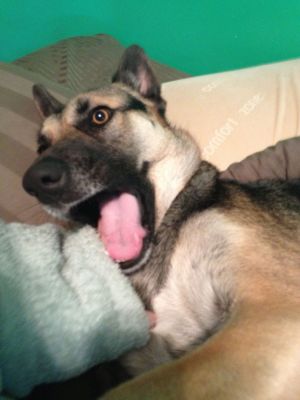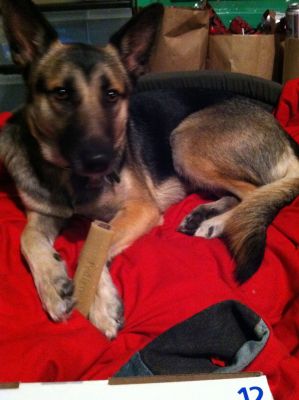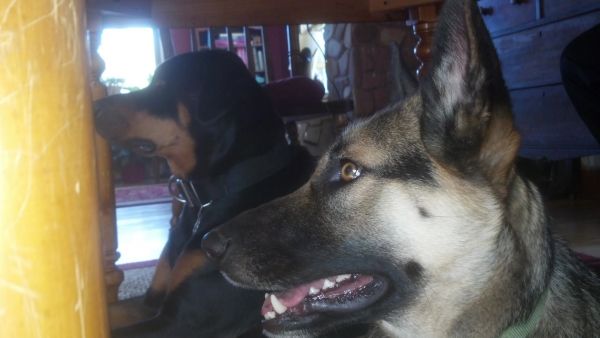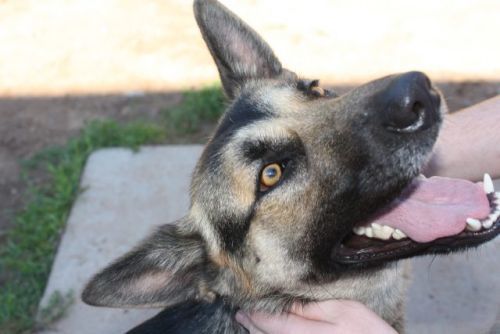 by
Hundmutter
on 24 June 2012 - 07:43
Absolutely no doubt in my mind now you put up the extra pix - as everyone else said, there's no 'mix' here, she clearly is a GSD. Not perhaps from very carefully bred lines, but a Shepherd, nonetheless. Look around you a bit more - the semi- and long coated Shepherds are only a minority in the breed; most dogs you see will NOT have an exagerated
slope to their croup (partly 'cos most dogs you see will not be posed in show stance, but rather moving and going about their normal daily business !). Most dog encyclopedias show pictures of GSDs with a coat like your dog's - take a trip to a bookshop or the library. Or just surf around on here.

Best of luck with her, and enjoy her !!
by
GSD DEFENDER
on 24 June 2012 - 08:26
Most shelters know if they mark the dog "MIX" your homeowners policy might not get cancelled because you have a GSD or any of the dogs on the list.
by
Jodynorth13
on 24 June 2012 - 12:29
Thanks everyone! I just wanted to know out of curiosity because we are moving soon. Family set up our homeowners policy for us (as a gift) so we never were asked about her even though they knew we have a dog. Which is probably for the better. I have my adoption papers that say she is a mix if I'm ever asked. Thanks again!
by
DebiSue
on 24 June 2012 - 16:14
Get her Canine Good Citizen certificate or Therapy Dog International. They would go a long way with the insurance companies if you have documentation that your dog is obedient and trustworthy, regardless of breed...and she is most definitely a GSD not a mix.
by
eichenluft
on 24 June 2012 - 16:34
looks like you have a rottweiler so that's the dog you may have homeowners insurance problems with, if any - not your "mix" - who is not a mix, she is a purebred GSD. remember "purebred" doesn't mean "well bred" but she looks healthy and good looking and if she's as sweet as you say, you found yourself a gem of a dog - congratulations!
by
Jodynorth13
on 24 June 2012 - 17:56
The rottweiler is my friend's dog, they get to play together once in awhile. I've never heard of the certifications above, I will definately look into them. She doesn't have any health problems yet, the vet we go to says she'll probably have hip displasia because she has shallow elbow and hip joints. She gets suppliments and food that hopefully will help with that. When we were looking for a dog to adopt my mother came to meet dogs as well. My mom was bit by a german shepherd as a child but Bella instantly changed her mind about the breed. Thanks everyone for all the information. I'm going to check into the home owners insurance also. They may accept her and I may be being paranoid. From what I've heard it depends on the company for the homeowners insurance.
by
marjorie
on 25 June 2012 - 04:37
Pure bred GSD, IMO. Having worked in rescue and having dealt with shelters, there is a liability for the shelter if they say pure bred GSD, so they usually say mix to avoid breed bans and someone returning a dog if it is not pure bred, as advertised. Oft times, people who work in shelters dont know one breed from another. There were times they couldnt even tell males from females, despite one having *athletic equipment*.. @@
by
Mcap
on 25 June 2012 - 18:24
Beautiful little girl and kudos for adopting! I hope she brings your family years of happiness.

Mike
by
Sunsilver
on 25 June 2012 - 19:08
T@@ funny, Marjorie! LOL!
by
Jodynorth13
on 26 June 2012 - 00:44
Marjorie - That is funny but sad that I have to agree.

GGTurner - Thanks for the recommendations for her, I already have her on "large breed" food that has some ingredients my vet told me would help with it, she is on some supplements right now also.

Mike - Thanks, she was my first dog since I was 4 (I'm 26 now) and we are so glad we adopted. She's so great and has transformed so much (physically and emotionally) since we got her. It makes me happy every day to know where she came from and where she is now.
You must be logged in to reply to posts