Ziggy & Echo
by
DebiSue
on 29 July 2012 - 09:38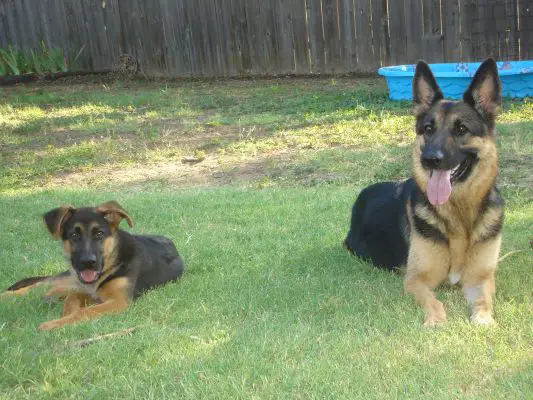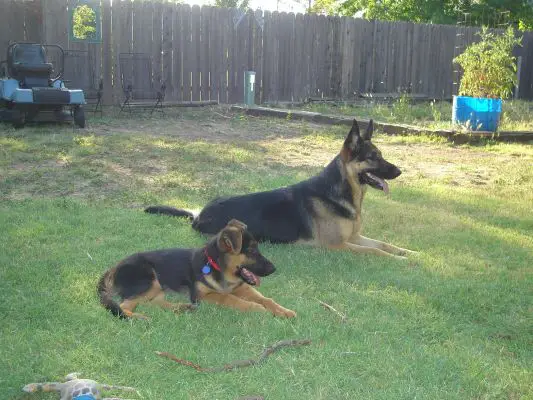 Here is our new pup Ziggy at 14wks and Echo just short of 4yrs. He is
a pistol! Loves chasing butterflies.


by
Krazy Bout K9s
on 29 July 2012 - 14:42
I heard the DEA's pup, ate over 50 grasshoppers and got a little tummy ache, and some diarrhea...they went to the lake and the pup, Blue, went crazy chasing them, then crunching them down, great hunter, lots of protein, guess they are going to restrict some of his hunting in the future!!!! LOL...cute photos, thanks for sharing!!!! Steph
by
DebiSue
on 29 July 2012 - 15:13
LOL about Blue and the grasshoppers! Ziggy loves chasing any kind of bug. Mucho prey drive...go figure! He has taken over Echo's crate for his own and stashes his toys in there. She will steal them and leave them elsewhere and he will go get them and put them back. How's Magnum doing? Do you still have Katy? Wish we were enjoying your cooler weather. 100+ forecast for days, little relief in sight. UGH!

by
kitkat3478
on 29 July 2012 - 17:57
Happy you got a nice pup DebiSue,looking forward to happy tails from you.
by
Ibrahim
on 29 July 2012 - 18:11
Hi Debi, always nice to see posts from you

Beautiful dogs, both look happy and enjoying themselves in that big green area. Echo has a self-assured look about herself, I like that. Wish you and them all the best all the time.

Ibrahim
by
beetree
on 29 July 2012 - 18:41
I love how they are mirroring each other in posture in the pictures. Echo does look lovely. And Ziggy just looks too happy! LOL
by
CMills
on 29 July 2012 - 21:18
Cute pics! beautiful deep pigment on the pup!
by
DebiSue
on 29 July 2012 - 21:40
Thanks guys...I'm thinking of referring to them as beauty and the beast...They are getting along somewhat...Echo never learned how to play with other dogs...she's always been a people person so this is all new to her. She better get her licks in now because Ziggy is catching up with her and doesn't take much crap from her. If she tries to correct him he gets an attitude and snaps back at her. No backing down with him. He is smart and learning quickly what will get him in trouble with me. So far so good.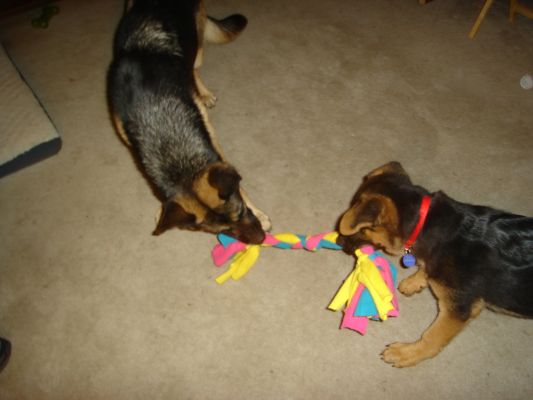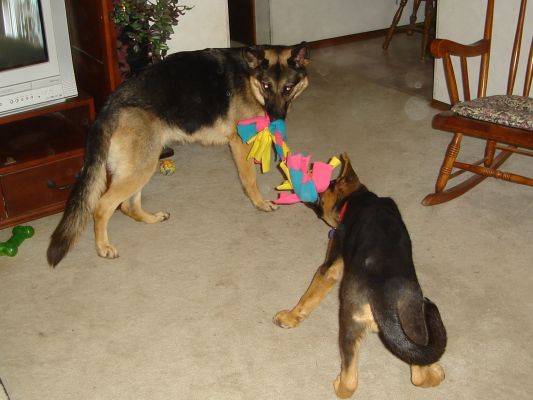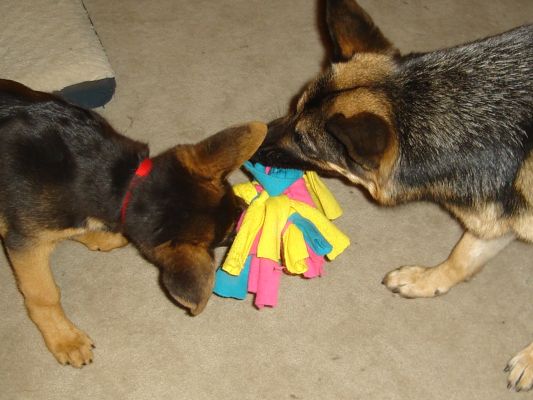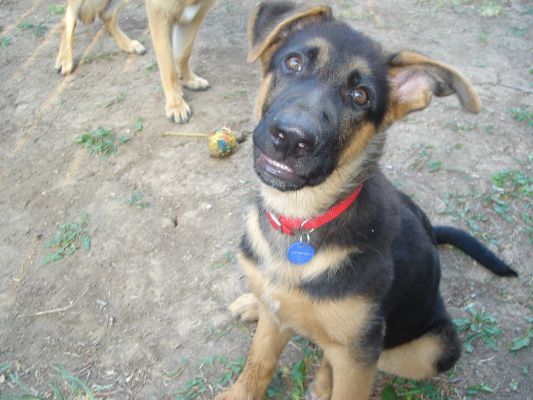 by
Krazy Bout K9s
on 30 July 2012 - 23:54
Hi Deb,
3rd and last try, darn computer keeps deleting everything. Great photos...Magnum is doing great, Steve is not working him much, we run out of time, Katy is still here and still a raving little pistol...she doesn't do anything slowly, she reminds me of a Maligator!!!!! Running through or over everything. Stealing the balls from Red and Belle, attacking the water in the hose and then stealing the hose to another part of the yard. Dunks her head into the kiddy pool to retrieve the ball that sinks, she is one tough cookie. I am training her up for a police k9, she BITES REAL HARD-OUCH!!!!! She RUNS into the mudroom and sits and waits for her raw meals, she is way too smart and anticipates everything, almost like she can read your mind...she finds balls in the house that are hidden from the other dogs, just like her Mom, Dad, and Grandpa!!!!

Great nose on her....great hunt drive. But then at the same time, she sleeps with us and loves to cuddle, she is my shadow, everywhere I go, she is right beside me. She watches me with her eyes like she is trying to read my mind, which at times, she does!!!! Darn she is a smart one, too smart for me I am afraid!!!! LOL...but she just wants to please!!! She is going to be really a hard one to let go!!!
We are finally making a real sidewalk in the front yard, so Paul doesn't trip the next time you guys come out, had to bury the electric line deeper, so the pups are having a blast, dropping the balls into the trench, then jumping in to retrieve them out....

Glad to see Echo is finally succumbing to Ziggy's ways....she had better watch out, he will get the best of her soon....keep the photos coming,.
Love to see them, Steph and Steve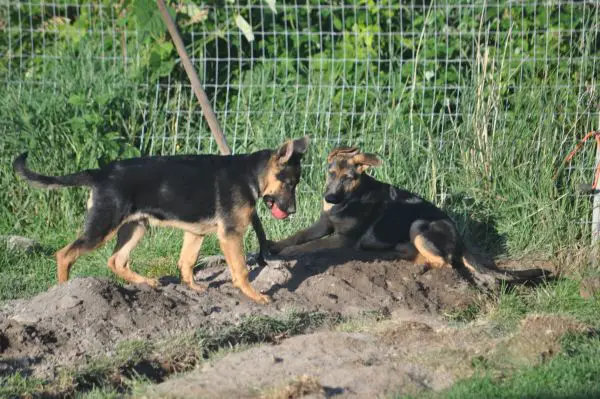 Katy and Magnum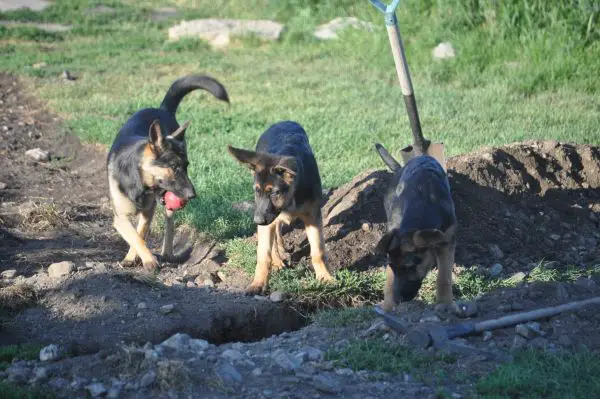 Belle, Katy and Magnum

by
DebiSue
on 31 July 2012 - 22:54
How fun! What are they going to do when you fill in the trench? LOL! They are looking good! Poor Ziggy is teething and chewing everything! The felt rope seems to be his favorite. He can really crunch down on it and relieve the sore gums. He talks...alot. He's figured out how to jump on the beg to wake Paul up. HA! He also drags the hose across the yard. Paul keeps asking me,"Did you use the hose for something and forget to put it back?' Yeah, right. Ziggy steals everything from Echo except her food. I don't let that happen but when she is finished they both go check each other bowls just to be sure nobody left anything behind. I hear play growling in the other room and Echo seems frustrated...I better go keep an eye on them. Later!

by
yellowrose of Texas
on 31 July 2012 - 23:00

Thanks for great pics of your new ZIGGY


Echo has control it looks like...LOL

Love their looks together/now the real games begin /I see he is getting good tug exercise.!!

YR
by
DebiSue
on 31 July 2012 - 23:15
They crack me up! We have only one crate as Echo does not need to be crated anymore so we put Ziggy in it...and Echo is jealous. She knows it is her crate and despite not using it except to travel, it is hers! Ziggy goes in and out of it when loose in the house. He will pick up a toy and carry it into the crate. He comes out and finds something else to play with or take back to the crate. He would stash them all in there eventually. Echo will watch, wait for him to come out and go in and steal whatever toy he took in there. It doesn't matter what it is; if the other one has it, it is the toy of choice. There is one toy in particular that Echo will not leave alone. It has (ok, had) a squeaker in each foot, the tail and the middle. Echo had her own version, Ziggy had his. Echo disembowled hers and it went to the trash. Now she stalks Ziggy's and wants to do the same. It is not long for this world. LOL Ziggy, little pest...waits until I get ready to sit on the couch and he will jump up, sprawl across my section and pretend to sleep. He buries his head into the cushion and gives me the stink eye, knowing I am going to roust him. One of these days I won't see him and it could be curtains for Ziggy if I land on the little fool. LOL
You must be logged in to reply to posts