by ZweiGSD on 17 February 2019 - 17:02
I am in the process of looking for a new dog bed. I made the mistake of hanging the cover outside to dry on a windy day without zipping it up. Consequently it broke the zipper. Bed is about 10 years old and has held up well otherwise -- will be downgraded to my office at work.
Need something that is bolstered (cuts down on the wall washing). The price is a killer but like the idea of being able to hose down the fill on the Snoozer bed. Anyone have one of these?
https://snoozerpetproducts.com/product/forgiveness-sofa-washable-mattress/
Also looking at Orvis or if anyone has any other suggestions.
The old bed (I think I posted this pic before in another dog bed thread).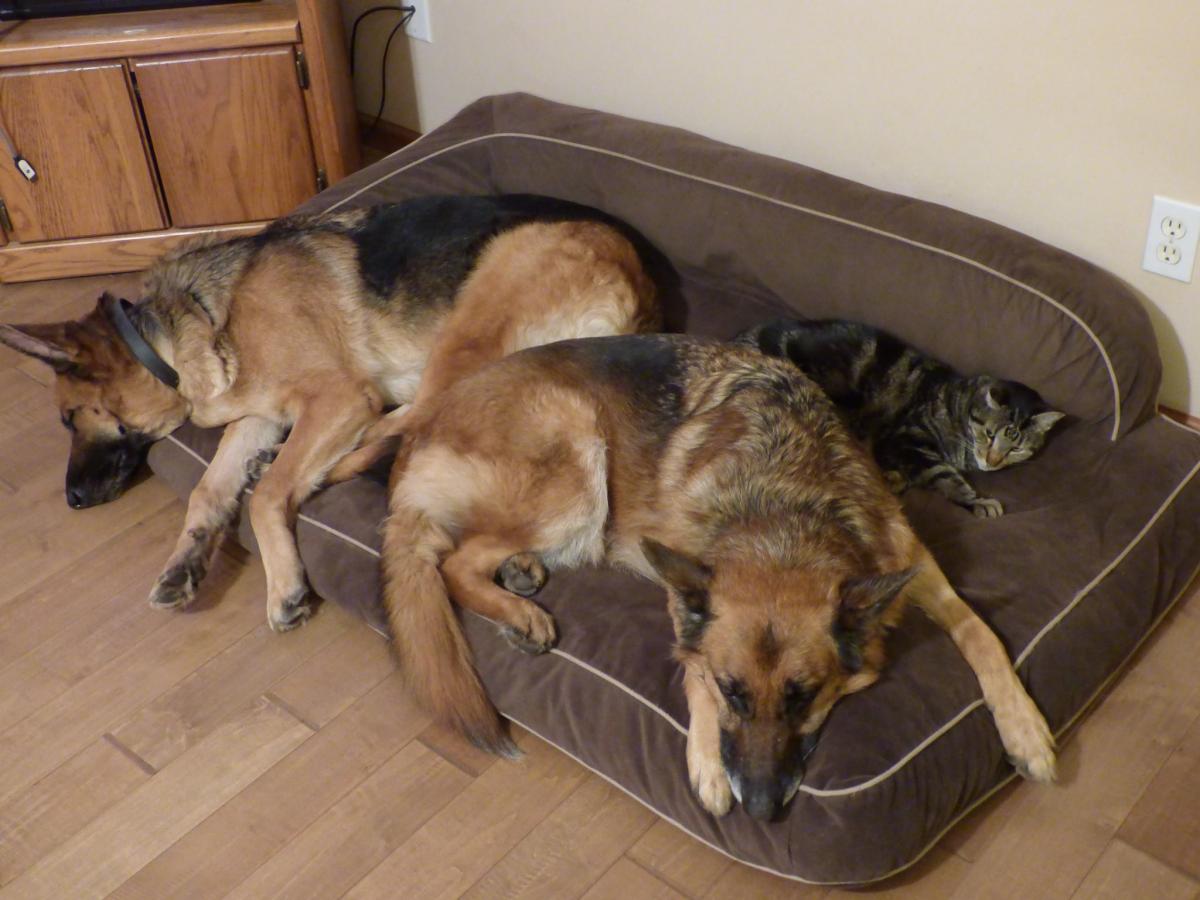 by Gertrude Besserwisser on 17 February 2019 - 19:02
Nice looking dogs. Don't have a Snoozer bed. I have had a Orvis for the last twenty seven years. It was not cheap back then $165...It is not as nice looking as the one in your picture. It does have a bolster in back and sheep skin outside on the bed part. Besides the back bolster, it has two side bolsters. The bed is sort of like a giant arm chair, big enough for two dogs, although mine typically use it one at a time. It has seen me through seven dogs, two of which are currently using it taking turns. Several years ago one as a puppy bit a small hole through part of the sheep skin and I had to duct tape it. But it still works fine. However, there is no zipper, so the whole thing would have to be washed, which I have never done. It is too heavy to be hung up. Fortunately, none of my dogs ever toileted themselves on the bed...

I get the Orvis catalog and they seem to have the biggest selection of anyone. They have very knowledgeable people so you could ask them for a bed with a zipper if they have one. They make nice things.
by GSCat on 17 February 2019 - 20:02
Nice looking cat, too

Could you get the zipper fixed or replaced at a shoe repair/similar?
Maybe one of the K9 supply houses... Elite K9, etc.

by Western Rider on 17 February 2019 - 21:02
Find a neighbor or someone from your church who sews. Zippers are easy to replace.
by ZweiGSD on 18 February 2019 - 03:02
Shhhhh, don't tell my husband that zippers can be repaired. That's my reasoning for needing a new dog bed.

I was thinking about just doing a zipper repair but liked the idea of being able to easily wash the mattress on the Snoozers.
---
---
Contact information
Disclaimer
Privacy Statement
Copyright Information
Terms of Service
Cookie policy
↑ Back to top